When Beyoncé wrote the lyric "it should cost a billion to look this good", there's no doubt she was referring to Christine Quinn in a frayed denim Balmain minidress and a french fry handbag, causing drama on Selling Sunset. Over five seasons the villainness with a high-end wardrobe and an even higher ponytail has brought all the fashion and entertainment to the million-dollar-house-selling reality series. Sadly, though, it has been reported her time on the show has come to an end.
Let's tell it like it is. We weren't tuning in to see brokers ringing a bell when their property is in escrow (we're still not even quite sure what that word means). No, we were there to watch Christine roll her eyes at them when they did. We watched for the ASMR of her acrylic nails tapping absolutely nothing work-related into her Macbook, or the chaotically-themed open houses she threw — which we half-suspect were purely organised so that she could expense botox, couture and caviar (we would too!). We watched for her turning up to the office to wreak havoc in the relationships and friendships of her colleagues wearing trompe l'oeil naked bodysuits, Bratz doll heels and head-to-toe Chanel. 
But while she may not be returning to the Netflix series, a few Fashion Week appearances over the recent seasons – and becoming a Balenciaga babe – suggest we're sure to see many more iconic looks from Christine Quinn, this time on the runway or sitting front row, rather than a Beverly Hills listing. Nonetheless, here are some of our favourite chaotic evil queen's best fashion moments thus far.  
'Selling Sunset', Season 1 Episode 8, 2019
Christine has a habit of showing up anyone who dares to stand within a 10 ft radius of her. Case in point, this time she casually strutted through LA traffic in this patchwork animal print leotard alongside a pair of skin-tight sheer lace trousers that made Mary look like she'd pulled on her white playsuit straight out of a Shein package.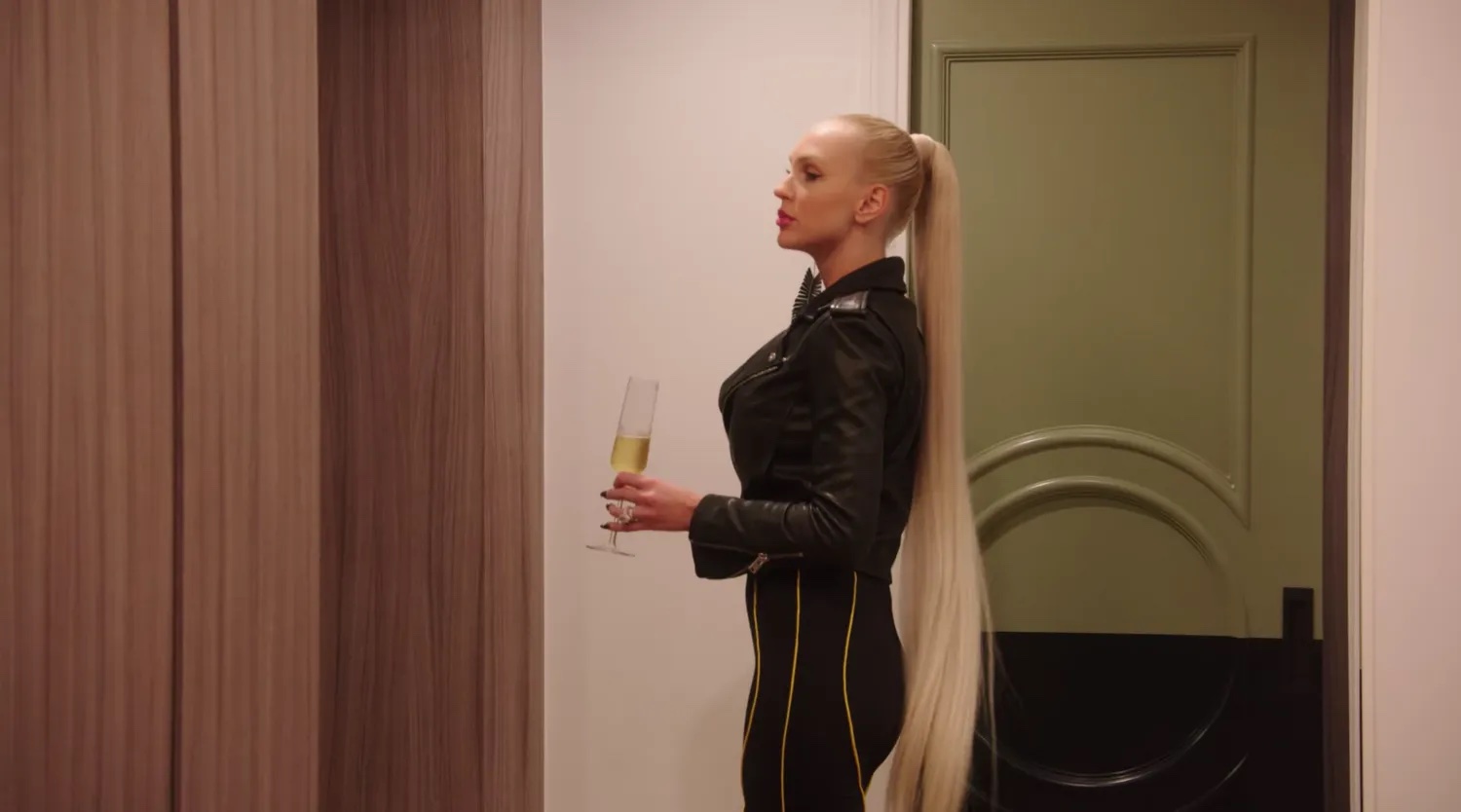 'Selling Sunset', Season 3 Episode 3, 2020
This moto-chic look is cute and fashion forward, but what we're really here for is the never-ending, floor-scraping ponytail. Christine makes fashion look so easy. If that was us we would have already tripped down the stairs twice and our tresses would be knotted with street litter, a stray cat and cigarette butts. 
On her wedding day, 2020 
Resplendent with gothic opulence, Christine Quinn's wedding was the stuff of Wednesday Addams' dreams. With the energy of Winona Ryder's Beetlejuice wedding dress in black, Christine took to the aisle in a million-dollar design made in collaboration with Galia Lahav. Occasionally peering out from under that elegant sparkling gown and matching veil was a pair of red Louboutins, signed by Christian Louboutin himself. How could you not say "I do" to that?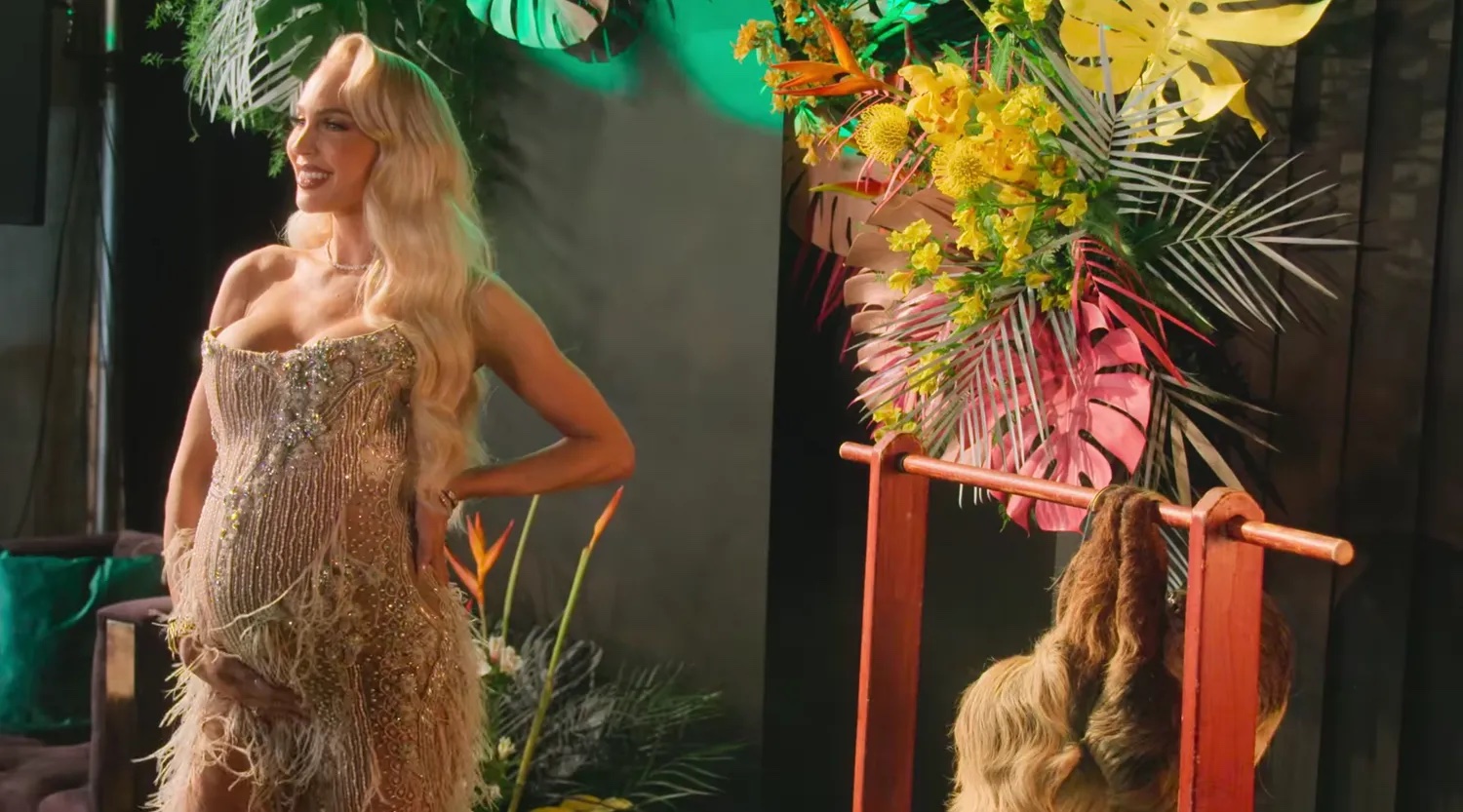 'Selling Sunset', Season 4 Episode 2, 2021
Whether it's a zebra at her engagement party or an orangutan at her baby shower, Christine loves an animal to match her garms. Heavily pregnant for the latter, she donned a sheer feathery high-slit gown in nude that we could easily imagine being in Rihanna's maternity wardrobe, too.
'Selling Sunset', Season 5 Episode 1, 2022
Nobody does bags like Christine Quinn. Remember the totally-unusable diamanté chair purse? The mini framed Renaissance painting box bag? The basketball chain bag? All looking camp dead in the eye. In season 5, she added to that range with a tasty bejewelled french fry purse from the Chicago womenswear brand Akira, worn alongside a kitsch Balmain denim patchwork minidress, Chanel jewellery, Bratz doll heels and pastel hair gems that Olivia Rodrigo would die for.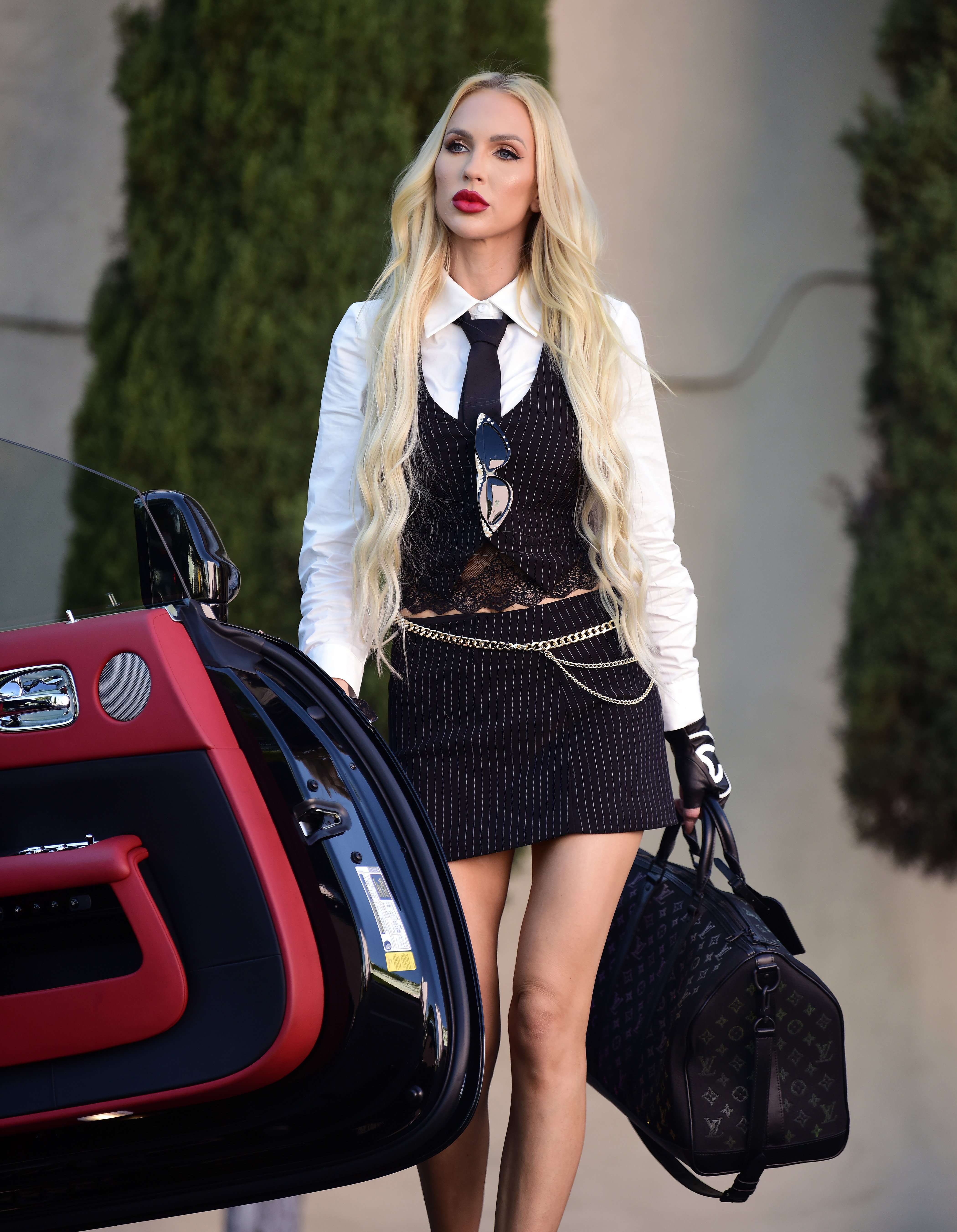 Photo by FILMDIGITALS/MEGA/GC Images
'Selling Sunset', Season 5 Episode 2, 2022
With the beachy waves of Paris Hilton, an outfit reminiscent of a "Me Against The Music" Britney Spears and the energy of early Avril Lavigne, Christine was channelling serious 00s pop punk revival energy in her look to return to the office. The schoolboy shirt and loosely-knotted bulgy tie were paired with a pinstripe mini skirt and matching waistcoat that had a lacy camisole peeking out underneath. To finish off the ensemble, she accessorised with a chain belt, motocross gloves, blackout sunglasses and, of course, a huge LV bag no doubt carrying all her broker paperwork. In the words of Britney, and Christine herself: You better work, bitch!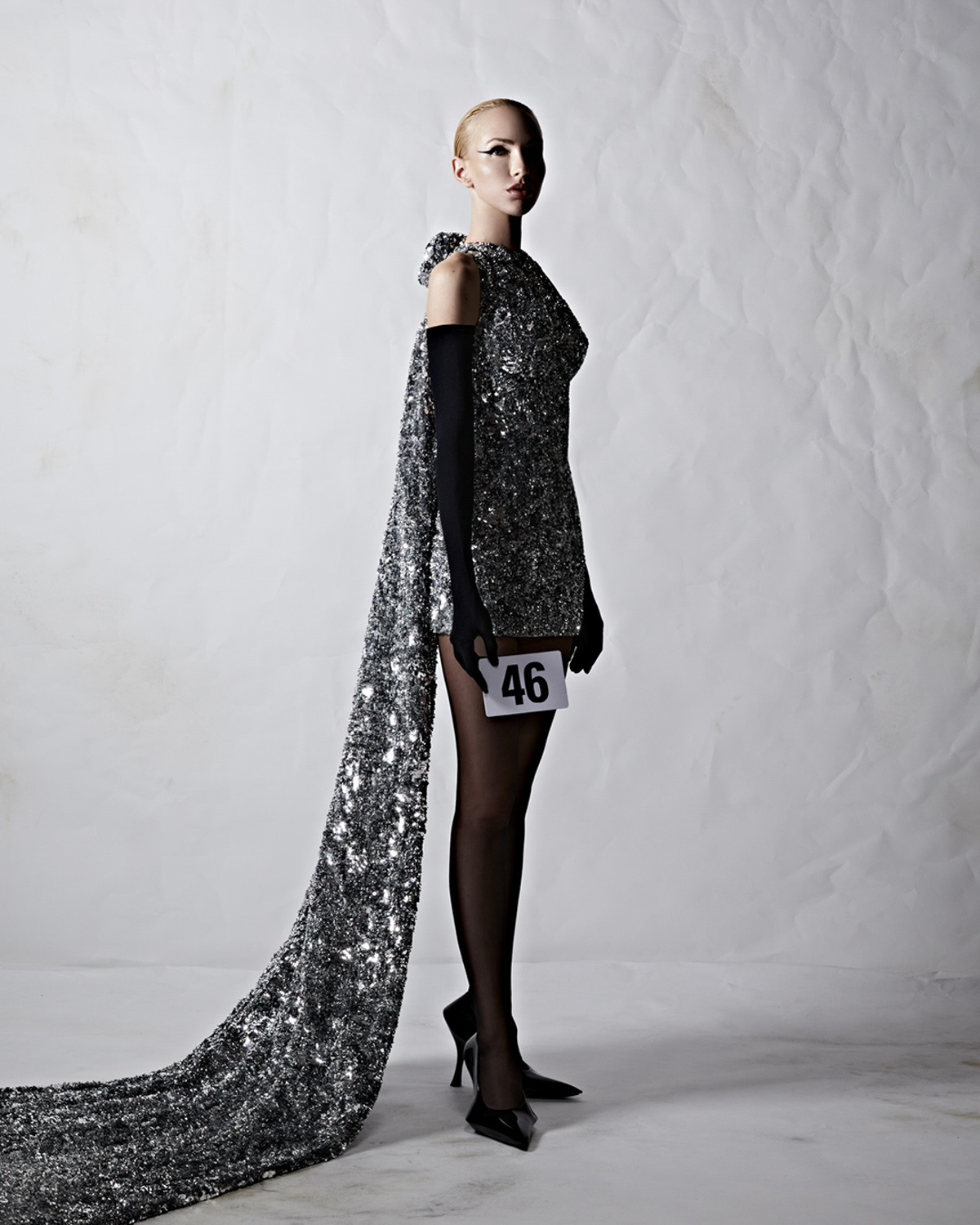 Image courtesy of Spotlight
Walking for Balenciaga Couture FW22, 2022
It takes a very specific energy to be a Balenciaga babe – a cutthroat, above-it-all chicness that very few can encompass. Naturally, then, Christine Quinn was sitting FROW with Alexa Demie, Anna Wintour and Kanye West at the house's show at the New York Stock Exchange earlier this year. But for the house's couture show Christine took to the runway in a handsewn crystal train dress which took over 3,500 hours to make! Exactly where she was born to be, walking the same ground as Naomi Campbell and Bella Hadid, her Selling Sunset era may be over (for now at least) but it seems an even chicer journey may be on the horizon.