In recent years, Ganni has become known as the label that redefined Scandinavian fashion. Their Scandi 2.0 sense of style, envisioned by Creative Director Ditte Reffstrup and CEO Nicolaj Reffstrup, combines a love of all things fashion, with colour, personality, and most importantly, fun. For their SS23 collection, entitled 'JOYRIDE' and inspired by the energy of Copenhagen in the summer — best experienced while cycling around the city in the early morning hours with your headphones in, beats pumping — the Danish label sent BMX riders racing down their colourful waterfront runway, all before presenting a steady stream of effortless ready-to-wear pieces.
Of course, in typical Ganni fashion, there were a number of collaborations hitting the runway this season, from block-coloured windbreakers in partnership with Icelandic outerwear specialists 66North and wax jackets created with Barbour, to the latest Levi's® x Ganni collection inspired by Mother Nature. The latter is made with at least 55% certified organic cotton and natural dyes — from real plants and minerals, using water-saving techniques — and comprised of a number of signature silhouettes that're just as at home in nature as they are in the busy city. You'll need not look further than the campaign starring Emma Chamberlain and friends, as they hit the garden to cultivate some otherworldly produce (read on for more on this!), to get into the spirit.
Ahead of Ganni's SS23 show, we sat down with the YouTube sensation to chat about the new collaboration, her changing relationship with social media and Emma's fashion dos and don'ts. Well, let's just get to it then!
**Hi Emma! Let's begin by discussing your relationship with Ganni and Levi's. When did you first start working with them?
**I started working with Levi's over a year ago. I don't know if it's been quite two years, but quite a while. It's been so fun because I've been a Levi's girl, whether they wanted me to be or not, for a very long time – like, since I was old enough to wear jeans. It's been such a natural partnership since day one with them. And then Ganni, I've been a fan and a wearer since I found out about them, so that was just so exciting. We got brought together because of Levi's, but I was already there — I was already loving the brand. Them doing a collaboration was just so cool, and I was like, count me in! I'm ready. It's rare to see two brands that are both your personal vibe come together to do something. I'm buying the whole collection. You know, like that's a must.
**Of course. Do you say Ganni or GAH-NNI?
**I'm a Ganni girl. But like, I found out it's up to interpretation.
I think it is, too. But I have to say Ganni.
**What is it about Ganni that you find attractive as a brand?
**I love how they have this mix of, like, a Cool Girl, kind-of-a-little-edgy vibe happening. But simultaneously, it's also very playful and youthful. That combination is magical to me because it's very much me. I love that balance and it kind of creates its own genre. And everything's comfortable.
**You mentioned you're wearing a look from the Levi's® x GANNI collaboration to the Ganni show later. Tell us about the shoot that you did for the campaign.
**We shot that in London a few months ago and that was my first time there. It was a beautiful day. I mean, we were in a garden. And you know, we're kind of getting into the feel of what the collection is all about. The whole theme is these big, extreme vegetables, which obviously don't exist. So we were kind of miming around. It was cool to see it all come together after the shoot was over and the vision truly come to life. You know, I did actually – fun fact – have a stye on the day of the shoot.
**Oh no!
**Honestly, if you really look close, you can see it. That's true. Like my eye was so swollen and anyone who knows what I look like, is gonna be like, 'Ew, there's something going on with her eye'. But guess what? It's like having allergies. Mine was really severe though, like, I could not open my eye one day. It doesn't feel good. Not good.
**How would you describe your personal style? Has it evolved as you're attending more high fashion events?
**At this point in my life, I'm trying to stick to things that are classic that I'm never going to cringe at later. So you know, mixing and matching, just different classic silhouettes and pieces and having fun with it. I also don't really follow the rules. I'm kind of open to whatever. Like, if it feels right, it feels right. I don't really put myself in any box. I think the underlying theme of everything I'm wearing — and I think everyone should look at clothes like this — the underlying theme will always be you. And like, that's what makes an outfit cool. Anything can be your style, if you wear it with confidence, and if you wear it, like, with your heart.
My appreciation for fashion has really blossomed even more from those experiences, but I feel like the main changes that have happened have been just a part of growing up and figuring out who I am in general. I'm not somebody who's wearing designers every day. I mean, I love a bag. Like a bag? I'm here for it. Everything else, I like to be a little bit more scrappy. I'm not picky about where my clothes are from. I'm picky about what it looks like as a unit. My style's definitely changed, but also so have I, so who knows.
Emma Chamberlain and three other models wearing pastel denim looks
**What's the worst outfit you've ever worn?
**My worst outfit? I would say what I wore to the Streamy Awards in 2018. I literally never want to look at that outfit again. It's the most foul. I don't even know how that happened. It was like these ugly plaid pants; they just were so ill-fitted, like they did not fit right, with like a fucking Gucci belt. Like, lord help me. It just was weird. It was 2018, I didn't know who I was. With these Gucci boots, it was just not… I'm not saying there's anything wrong with Gucci. Okay, that's not what I'm saying, I love Gucci.
**We love Gucci.
**We LOVE Gucci. But it was the worst. Now I know a brand like Gucci makes the most beautifully made pieces. And I was just buying the belt with the logo on it? There are so many more beautiful things that they've made that are so much more my style, but all I knew was like, G logo, okay, yeah. The whole fashion world was so confusing to me that I just didn't know what to do. I was just kind of choosing what I had seen other people wear. And that outfit is foul. I hope you don't even Google it because it was really bad. And I know you will. And we're all going to cry about it.
**I won't Google it.
**You can. I give you permission. Listen, it was like five years ago now. You know what I mean? We're past it.
**Is there a trend or aesthetic right now that you just can't get down with?
**I hate low-waisted pants. I mean, listen, like, I know that's an obvious thing to hate. But it's one of the only things I really hate. I've also never been a fan of neon. Like neon? I hate it. And when it's in? I don't care. I'm like, don't get it anywhere near me.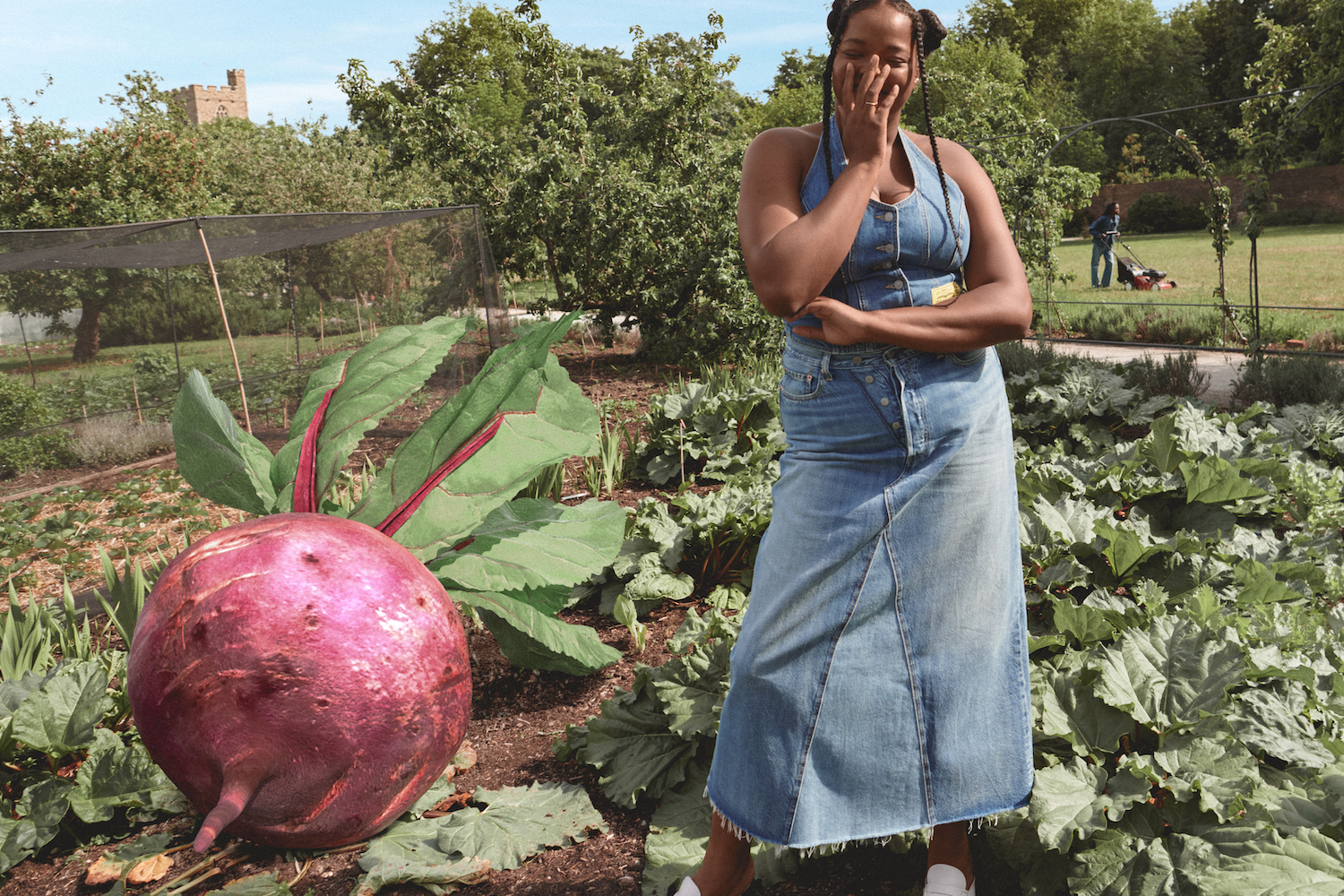 A model wearing a denim look next to a giant radish
**The low-rise jeans, they're really sticking around.
**They need to stop. Like, where is everything? What are you doing? I hate it. It's also uncomfortable.
They're pretty uncomfortable. You have no pockets. Or you can put something like this big in your pockets.I can't handle it. They're actually a shockingly difficult thing to style in my opinion.
**Obviously social media has totally transformed fashion and how we consume it. How has your love of fashion informed your journey as a content creator?
**I've always loved fashion, since before I even did this stuff. When I was literally just at home and the only people following me on Instagram were people from my high school and my family, I always loved dressing up for Instagram. Making a story out of it has always been really, really fun for me. You know, picking out a specific outfit for a specific place that I'm going. I've always loved that and making the vision come to life. I think now I'm in a different place where I'm more excited about fashion, in the sense of like, actually figuring out how to make pieces wearable and be comfortable, but trying to keep it cool at the same time and create, like, a moment moment on social media.
In general, I'm kind of ready to tone it down and be real about it a little more. Not that it wasn't real before, but it was more of an art form for me, which is honestly kind of embarrassing for me to say. I feel like calling [posting on Instagram] an art form is crazy. But it really is – getting into an outfit, finding a location, taking a photo, it's a production. It feels like a project and people take it really seriously. I really appreciate the way that people curate their Instagrams and, you know, tell a story about themselves and what their preferences and aesthetics are. That's a really unique thing that's happening and that's never happened before.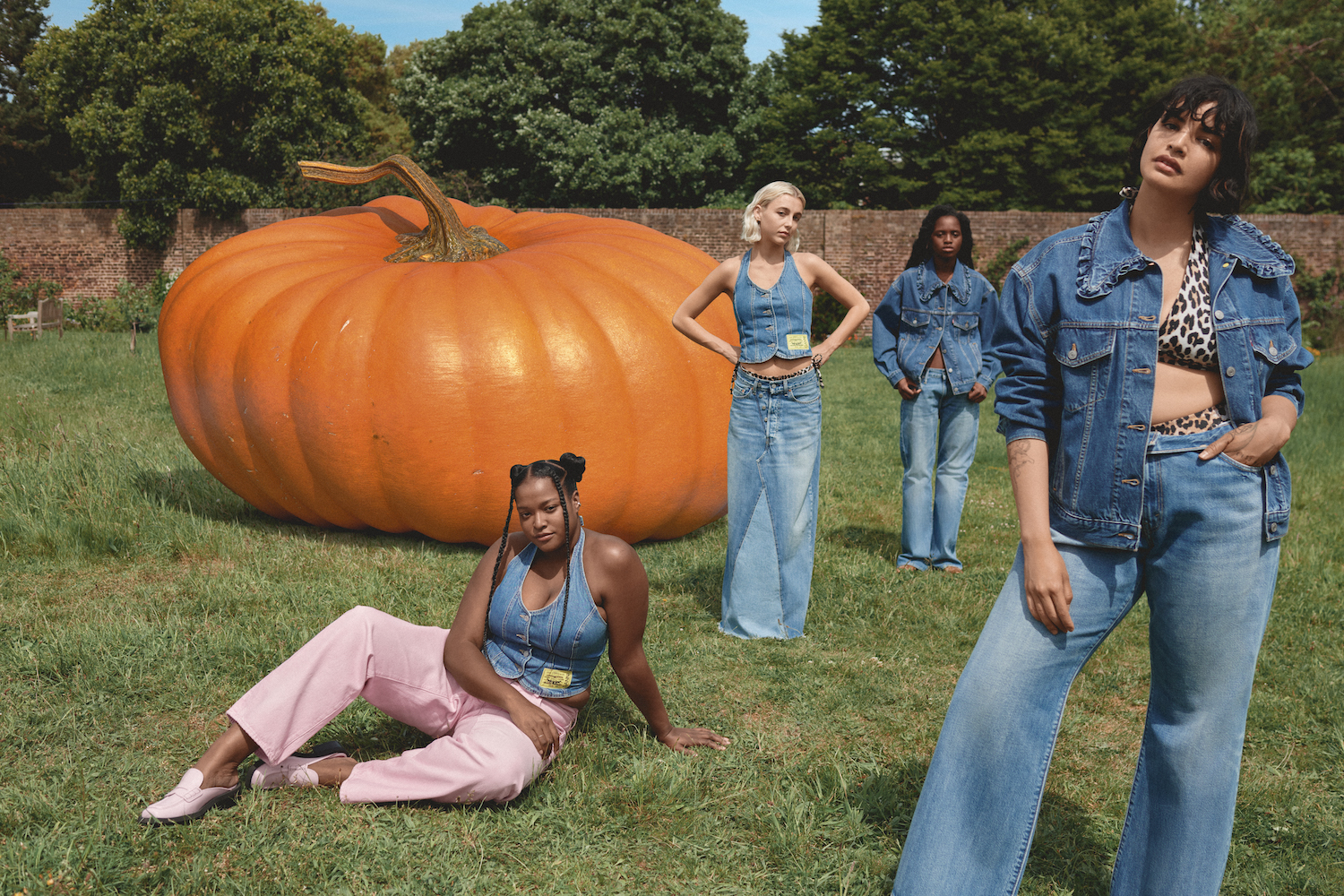 **Yeah, it's pretty powerful. Has your relationship with social media changed then?
**I mean, I just think that now I'm at a place where I'm not putting any pressure on myself at all. I just do it when I feel like it. If I don't have anything to post, you know, I just don't post. And if I'm doing a lot of stuff, I'll post ten times in a day. I don't care. I used to follow a rule where it's like, okay Emma, you need to be posting this often. And you need to be posting YOU HAVING FUN, ALL THE TIME or YOU DOING THINGS, ALL THE TIME. And the truth is, I'm not doing things all the time.
There'll be two months where I'm doing things and it's happening, and I'm posting, posting, posting. Then there are also two months where I'm just not doing shit, and I want to not do shit. Like, I want to just work silently in the corner, be in my PJs everyday and get my work done, not have to be getting all dolled up and stuff like that. Just knowing that helps, remembering that my life has cycles, and some of those cycles are interesting for social media and some aren't. And not forcing my life to look interesting just because I don't have anything to post on social media, you know?
**Yeah, of course. A lot of the behind-the-scenes is actually just being on the couch and watching Netflix.
**Yeah, 1000%.
Follow i-D on Instagram and TikTok for more interviews
---
**Credits
**All images courtesy of Ganni.